Ball State Police To Help Other Law Enforcement Agencies With Bias Training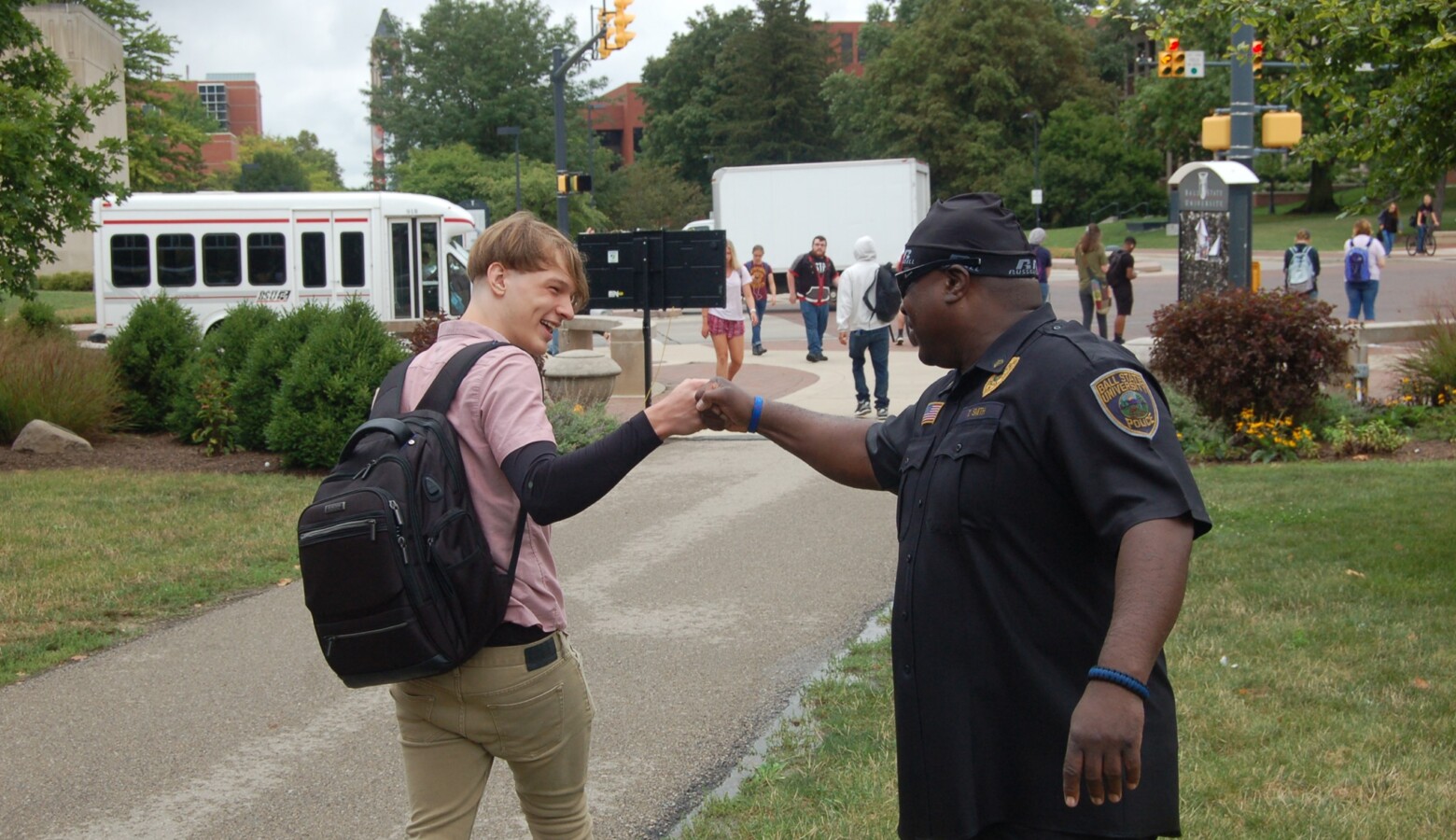 The Ball State University Police Department says it will gather with other law enforcement departments in the Muncie area to conduct implicit bias training for those officers.  As IPR's Stephanie Wiechmann reports, Ball State says its community policing model impressed other agencies at a recent community forum.
Ball State University police have worked under a community policing model since Chief Jim Duckham took over in 2014.  It includes building partnerships and interacting with students at events like lunches, discussion panels, athletic games, and on foot patrols of campus.  Duckham says it's the best way to work with all students, especially those that may have had negative police interactions in their hometowns.
"We wanted to change the narrative of when someone saw a police officer enter a residence hall or a dining hall, or just walking on campus, that something 'bad' was happening.  We wanted to change it to be like 'Hey, that's just part of our community.  That's one of our police officers walking by.  That's Lieutenant Huff, that's Lieutenant Smith.'  We wanted our students to get to know our police officers and our police officers to see our students and get to know them."
Now they'll take some of that training to the Muncie Police Department, the Delaware County Sheriff's Department, staff at the Delaware County jail, and resource officers at Muncie Community Schools.
At a recent community forum, county Sheriff Tony Skinner acknowledged the need for more training.
"And I'll be honest – we haven't had any cultural diversity training a long time.  We're way overdue.  And under my administration, I'm going to tell you, things are going to get different, okay.  We're going to talk about implicit bias training for our officers.  We're going to talk about racial sensitivity, de-escalation…."
Read More: Anderson Police Buying Cameras For Officers After Chokehold Arrest
Duckham says the community policing efforts have already paid off, as recent protests in Muncie and a march beginning at Ball State comprising thousands of people were peaceful – without the tear gas, rubber bullets, and other riot tools used in other cities.
"There was a uniformed presence there and, for the most part, the engagement between the officers and the community was positive.  That's not to say there were some people that were not happy with the police department, and they expressed those views.  But our officers understand the First Amendment and how important that is to have people have the ability to express their constitutional rights."
Ball State says training begins this week for the Muncie Police Department.  Sessions for other agencies will take place in July and August.