Muncie Largely Opposes YMCA Tuhey Park Plan At Community Meeting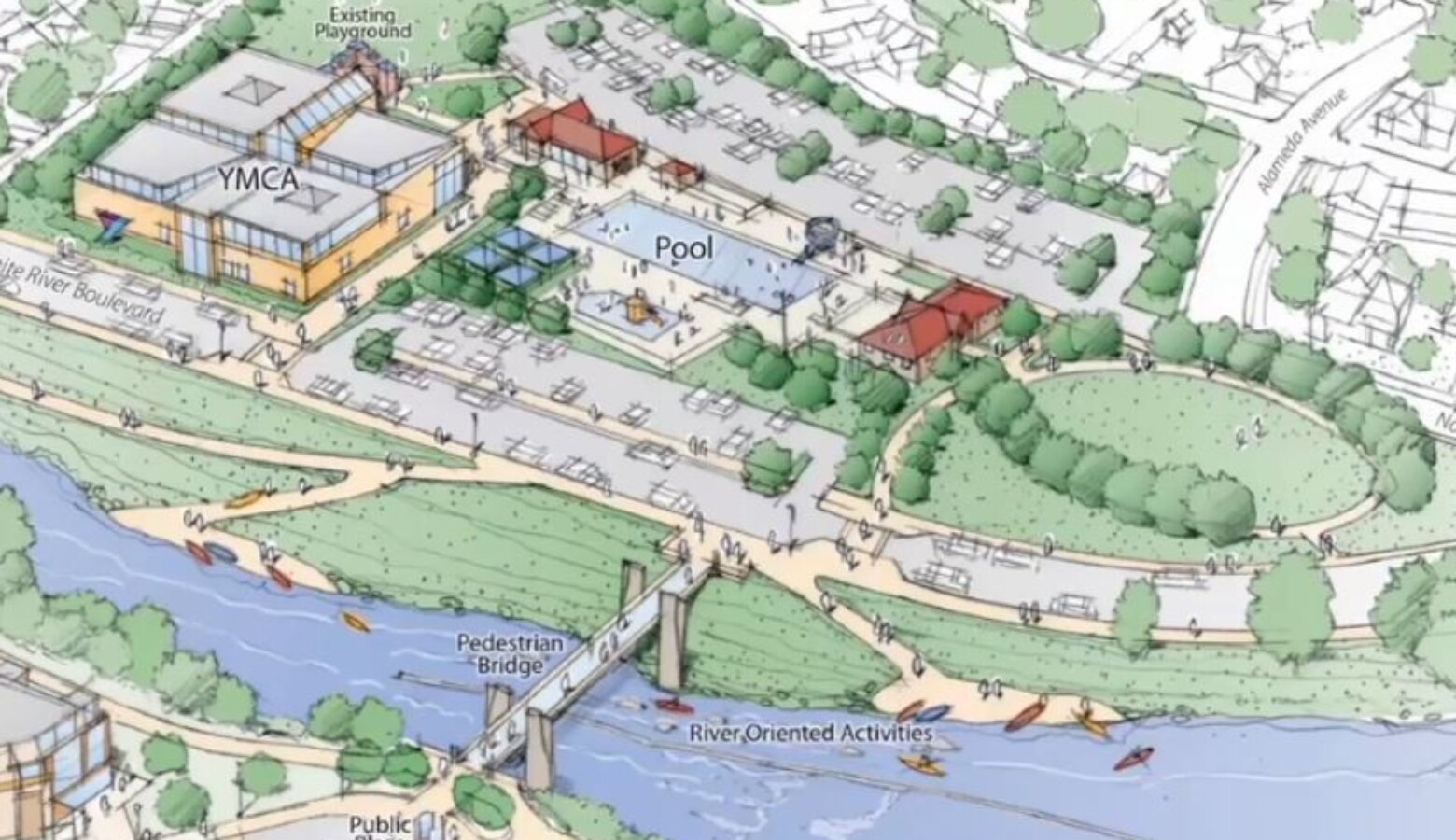 Muncie residents spoke out against a proposal to build a YMCA headquarters on what's currently a city park and pool at a meeting Tuesday night.  As IPR's Stephanie Wiechmann reports, park neighbors and the larger community say privatization for the Y's opportunities is not worth the loss of public park space.
Though the YMCA and city officials say this is a concept, not a formal proposal, there's already a bird's eye view of the site and a price tag.  YMCA CEO Chad Zaucha says the organization will need to raise $20 million to build a large new building and a parking lot with possibly 170-300 parking spaces on the current green space at Tuhey Park, next to Tuhey Pool and playground.
And though this isn't a city project, council member Jeff Robinson asked Muncie Mayor Dan Ridenour, "Do you support this project?"
The mayor replied, "As I look at the plan, I think it's the best location."
Ridenour says he would like to lease the public land to the Y, not sell it or trade it, as other Indiana cities have done.
Read More: YMCA Makes Case To Relocate To Tuhey Park; Community Members Aren't Convinced
Two neighborhoods near Tuhey Park say they oppose the privatization.  Beth Messner is with the Riverside-Normal City Neighborhood Association.
"For the residents of Muncie, who will be required to pay a fee for use of public land that should be available to them without fee, given that it's supported by their hard-earned tax dollars."
Because of COVID restrictions, residents were asked to email in statements.  More than 100 did.  Robinson says 105 were opposed to the use of Tuhey Park, and three supported it.
During the live public comment period, Jama Clark says she exercises and teaches at the Y because it's downtown now.
"Being a member of the YMCA has played an integral part of the person I have grown into in these last several years.  I work downtown.  If I had not had access to the YMCA downtown, I would not be a part of this organization."
Andy Shears, who grew up in Muncie and owns the Muncie Map Co. says he's found six alternate sites for the Y's move.
And he added: "When I was growing up, we couldn't afford a membership.  There wasn't anything offered to us for it.  We couldn't afford one."
Zaucha and Y staff say the organization now makes scholarships and reduced prices available for eligible residents.
The Muncie Parks Board already approved the proposal in October, but there is no current proposal up for a vote by the Muncie City Council.  At the end of the committee meeting, Robinson didn't call for committee member opinions.
"But I'll tell you," Robinson says, "I listen to my constituents and this is in my district.  It's clear that people are very passionate about this park space.  I would urge the YMCA to continue to investigate other, more suitable options – something that the community can be in favor of."
This past summer, the Y helped the city operate Tuhey Pool legally, so it could stay open.  When asked by city council members, Zaucha says if the Y does not get the Tuhey Park location, it will continue to help run the pool – calling the organization a good community partner.