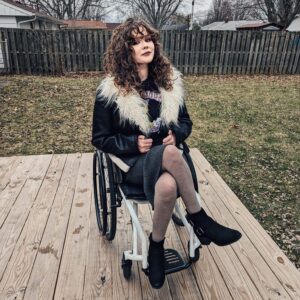 S04 E06 – Reclaiming the Disabled Narrative
We've all seen and read the stories of those with disabilities portrayed as secondary characters, there in the background to support the able-bodied lead in their quest for love, adventure, and success. But what if the script were flipped, and those with a disability were the main characters finding their own love, adventure, and success?
Join J.R. Jamison as he shares the story a polio survivor who loves to dance; a former runner with an auto-immune disorder who is finding a new path; and a college student with autism who asks us to pay attention. Later in the show, J.R. is joined by global disability influencer Monica Engle Thomas who has reclaimed her own narrative and uses it to inspire others.
Photo – Provided by Monica Engle Thomas.
Stories included in this episode –
Carry
Sandy Penrod's story as told to Jennifer Stanley from Facing Disabilities in East Central Indiana. Performed by Beth Nahre. 
Finding My Way
Antonio Kioko's story as told to Deirdre Lane from Beyond Face Value: A Facing Project from Principal Financial in Des Moines, Iowa. Performed by Carl Frost.  
Pay Attention
Carter Tharp's story as told to Jamie Reece from Facing Autism in Muncie, Indiana. Performed by Charley Isaacs.    
Music used in this episode –