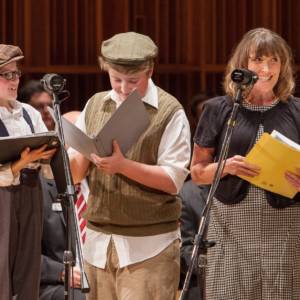 Presenting "Comfort and Joy": An IPR Radio Drama Retrospective
Stay tuned for the next episode of The Facing Project coming very soon, but until then, here is a special holiday gift from our home station.
Indiana Public Radio aired a live re-enactment of Orson Welles' famous "War of the Worlds" broadcast on the show's 70th anniversary in 2008. The IPR radio drama has since become an annual holiday tradition at Ball State University, growing over the years as a unique collaboration among community members, Ball State faculty, and Ball State students. "Comfort and Joy, An IPR Radio Drama Retrospective" reveals the process of creating this local holiday tradition and explores why storytelling in this format – "theater of the mind" – has found such an enthusiastic audience in today's fast-paced world.