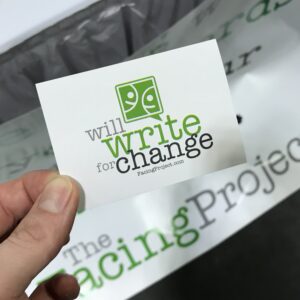 S05 E05 – The Empathy Effect
Humans are hardwired for empathy through mirror neurons, but time, culture, and climate determine if empathy grows, remains neutral, or worse—leads to anger or distress.
On this episode of The Facing Project, J.R. Jamison will explore empathy through two stories: one from a woman in Indiana who teaches kids empathy through theatre, and the other from a woman in Ohio who found it by loving her trans daughter. Later, he is re-joined by former co-host Kelsey Timmerman for a two-way where they make the argument for why empathy, if practiced in the right ways, has the ability to save us all.
Photo Credit – Provided by The Facing Project.
Stories included in this episode –
The World Through the Eyes of Another
Laura Williamson's story as told by Monique Armstrong from Facing Mentoring in Muncie, Indiana. Performed by Lorri Markum.
Hearts & Homes
Katie Flesch's story as told by Kate DeVantier from Facing Intolerance in Springfield, Ohio. Performed by Laura Williamson.
Music used in this episode –
"my bloody beating heart" by kitchenromance
Licensed under an Attribution 4.0 International (CC BY 4.0) License.
From the Free Music Archive.
All other music used with permission or through licensed use.
The Facing Project Radio Show is made possible in part by Behavior Associates.